Complete Transmission Repair and Service in Wilmington, NC!
Why Should You Choose Econo Transmission?
Your car's transmission is essential to keeping your vehicle going, so you definitely want to keep it in great condition and address any problems immediately. Here at Econo Transmission, we provide the meticulous, reliable service you should expect from your transmission professionals.
While we pride ourselves on our extensive knowledge of transmission mechanics, we also understand that customers expect more. Instead of overwhelming you with a lot of technical jargon, we clearly explain what we do and any issues we encounter, along with solutions. This way, we do not leave you wondering what on earth you just paid for and did you really need it.
Reliable and Fast Transmission Service
Our team provides reliable and fast transmission service in Wilmington, NC. In addition to repairs, we provide the regular service your transmission needs. You can rest assured that you will leave our premises satisfied.
Something amiss with your transmission?
Effective transmission repairs begin with performing proper diagnostics. Because so many transmissions today are computerized, a problem may arise because a transmission component needs replacing or repair, or there could be a digital issue.
Our transmission professionals possess in-depth knowledge of the best service approach for various types of vehicles. You can expect individual attention and a customized solution that works best for your car.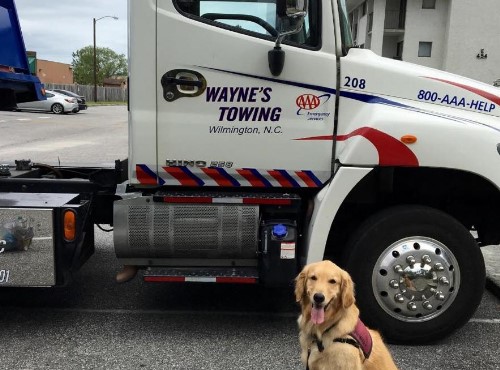 Wayne's Towing has been in business, here in Wilmington originating since 1987. They are a preferred service provider for AAA. Fully insured and radio dispatched.
When you need a transmission repair in Wilmington, NC
Transmission Specialist
Automotive technology moves fast and we move right along with it. Our transmission experts stay current with the latest developments and solutions in order to provide you with top-level service. Using advanced techniques helps us obtain accurate transmission diagnostics to pinpoint the source of any problems. Because we work with a wide variety of vehicles, we are fully prepared to handle all types of transmissions.
We go the extra mile to deliver great customer service. You can count on us to provide:
Full range of transmission services
Diagnostics
On-time completion
Towing
Convenient online appointment system
Latest technologies
Your transmission is one part of your car that cannot afford to wait once a problem shows up. This means sometimes you may need emergency services. Regular service and maintenance can detect and prevent problems before they escalate.